About Us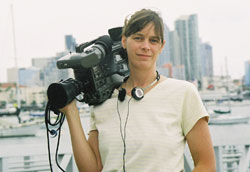 Coastline Productions has been providing video production services since 1993. Our very first project, a hotel promo, took us to La Paz, Baja Mexico. The very next job was in Seattle, all the way up the Pacific coastline. Thus, our name was born.
Coastline Productions is a small company with very little overhead. What this means is that every dollar of your budget goes straight toward creating production value. It also means that whenever you call, you will immediately speak to someone who knows about your project.
Simone Hogan, owner and primary operator of Coastline Productions, has been in the video business since 1989. Starting out as videographer and editor, she produced her first documentary, "Test the West!" at the age of 23 with nothing but a borrowed S-VHS camcorder and a whole lot of passion. The video was received with great praise by teachers of German, and it can still be found in nearly every college library.
Today Simone wrangles crews and equipment as an independent producer, but she still loves to get hands-on with every project. When you call Coastline, Simone is who you'll meet first, and she will take good care of you throughout the production process!
If that's what it takes to tell your company's story, we'll herd goats at sunset! -
Markee magazine loved this goofy production shot so much they put us on the cover of the January 2007 issue...

"Simone Hogan of Coastline Productions has produced 17 of my 18 videos in the last seven years. She is efficient, organized, competent, creative, exact, and incredibly good at production, directing, and editing. Her talent never ceases to amaze me.

I have the utmost confidence in her, and since I discovered Coastline Productions, I have not used anyone else for video production. I would highly recommend Coastline Productions to your company."






"Simone was a pleasure to work with — very accommodating
(6 am shoot!), fun, knowledgeable, and very professional. I will definitely use Coastline Productions for any and all further productions."