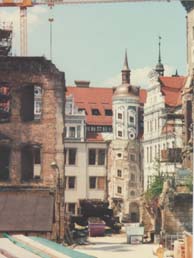 The Dresden Castle, 1996
The charred wall on the left is reminder of what the building looked like just 5 years ago.
After the reunification of Germany, a decision was made to rebuild the remaining city parts. Even though many people felt odd about the thought of rebuilding a war memorial, the majority decided it was time to move on.
Since then, construction crews have been busy resurrecting the architectural jewels of Dresden's downtown. A daunting task - given that all that was left were charred walls. It would have been easier to remove the rubble and start anew, but city fathers wanted to keep any and all of the original structure. Progress is slow, but steady - and now, more than 50 years after the war, the original face of the castle is slowly re-emerging.
City architects decided to rebuild the castle as it looked during its renaissance prime. So, much to the surprise of many Dresdeners, who only knew the building as black, the sand stone facade of the castle turned out not to be plain off-white, but covered with intricate paintings.